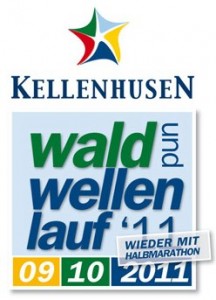 Kellenhusen is a beautiful village and holiday resort at the German Baltic Sea, about 50 kilometers north-east of the city of Lübeck. When I was looking for a half marathon race after I missed the Alstertal Halbmarathon in Hamburg two weeks ago due to a cold, I found that there was a set of races in Kellenhusen, consisting of a 5.5k, a 10k, a half marathon, and a kids race on exactly the weekend when I wanted to run. So I registered for the HM without thinking twice.
So last Sunday I put on my running gear, including my brand new dailymile tech tee, got into my car at 7:30pm and drove towards Germany's east coast. It was a crisp, beautiful morning (2°C or 35°F), sun beaming from a blue sky. At the time I arrived at Kellenhusen the temperature was already 8°C (46°F), so I decided to wear only a short and my dailymile shirt. From the car park it was only a few meters to the "Kurhaus" (spa center), where I got my race number. The start and finish was also in front of the Kurhaus.
At exactly 10am the gun went off (except there was no gun, only a man who shouted "Auf die Plätze, fertig, los!"). As planned, I began slowly. The three previous HM race of this year taught me not to run fast on the first kilometers. The start was at the beach, merely 20 meters from the water. The first 500 meters led us along the beach, then the course continued towards the woods. From now on, the surface was difficult, even cross-like at times. It had rained heavily the previous days, so there were deep, muddy puddles on the way, often the path was stony and you had to be careful not to twist your ankle. But apart from that the course was beautiful, pure nature.
The first of the two laps we half-marathoners ran toghether with the 10k-runners, the second lap was almost identical except for two detours. So the first 10 kilometers were relatively crowded. Ok, not exactly crowded, with only about 100 participants (10k and HM combined), but there were always runners before and behind me. On the second half there was no one. I could only see one runner in a blue t-shirt 200 meters in front of me and a couple of runners as far behind me. So I was almost as lonely as on a long training run, exept for the volunteers who led me the right way through the wood and the man at the only water station at the 5 km mark.
After 2 km I settled in at a pace between 5:00 and 5:10 according to my watch and the km markers. Since I thought I ran at a steady pace, I was surprised that my km times seemed to vary significantly on the folowing kilometers. When I passed the finish for the first time after 10 km, my confusion was complete: apparently I had run 2 km in 6:30 – a pace which is beyond my possibilities. So I knew that I couldn't trust the markers, but I didn't know what my actual pace was. Similar to the Alsterlauf 10k four weeks ago, when I ran without a watch, I had to rely on my feeling for pace again. I pushed forward on the second half, aiming for a pace of 4:50 to 5:00 per km.
At km 19 I finally met and overtook an other half marathoner: the guy in a blue t-shirt whom I had seen running 200 meters before me most of the race. Now I saw that he ran without shoes! Completely barefoot, a half marathon on this stony and muddy surface! Amazing.
Amazed I was also when I looked on my watch after passing the finish line: 1:43:14, a new PR, 20 seconds faster than 6 years ago, when I had run the Hamburg HM in 1:43:34. I must have run the first half much faster than I had thought.
Beside the excitement about my new PR I was also a bit disappointed: I finished only 13th out of 33 runners overall and 7th out of 9 in my age group! Last year I would have won my age group with that time!
It was a great day of running and absolutely worth the 4 hours of travelling. I can highly recommend the race. I definitely will return to Kellenhusen next year!