10 years ago Apple Computer Inc. introduced the first iPod. It was an mp3 player, by no means the first on the market, it was chunky, and it was rather expensive. We all know that the iPod was the base for Apple's success in the following 10 years – but what meant the iPod for me personally? The answer is: It changed a big part of my life.
I bought my first iPod in 2004, it was the first one with a so-called click-wheel. Where the first iPods had buttons positioned around the touch-wheel, this one had the buttons and the wheel integrated.
I never left the house without my iPod. My entire music collection fitted on the 20GB hard disk. I could listen to music for days without repeating one song.
Around that time, the public radio really started to annoy me. I couldn't bear it anymore, always the same lukewarm songs, selected with the only goal not to disturb anyone and interrupted only by annoying assertions that exactly this radio station is the best ever in the universe.
So the iPod came just in time. I bid farewell to the radio and chose to listen to good music, to MY music. Since then I listen to the radio only if I absolutely have to. Virtually never.
And then I discovered podcasts. Again it were the guys at Apple who paved the way to the success of this new medium. Apple didn't invent podcasts, but the iTunes software, which was necessary to run an iPod, made them popular. Thousands of very talented people created their own "internet radio" program, now better known as podcasts. Through iTunes these podcasts were distributed directly to the people (or their iPods). Suddenly one could find interesting programs about any topic one could think of, and even better, one could listen to these programs at any time. No broadcasting times, no missed programs.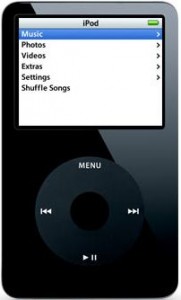 Generally speaking, the iPod (and even more so the iPhone and the iPad) made me independent from mass media. So it's quite ironic that I first read about it in the newspaper: it was an article in the Süddeutsche, one of the biggest German newspapers. Now the successors of the iPod are a menace for classical mass media.
The close relationship between me and my first iPod lasted for 3 years. Early in 2007 someone broke into my car and stole the iPod. I immediately ordered a new one, a black iPod classic (5th generation). Of course this one was better, with a color display and a bigger hard disk. It was in turn replaced by an iPhone in 2010, but for me my first iPod was the door to a new and much better (media) world.