When I left the hostel near the Vienna Westbahnhof I first noticed the great marathon weather – cloudy and cool, but no rain. On my way to the U-Bahn I crossed Mariahilferstraße at km 18 of the marathon course. The trains to the starting area were crowded. When I got there I wandered around, looking for the van to drop off my bag and looking out for a familiar face. Of course, with 35,000 runners, I found none.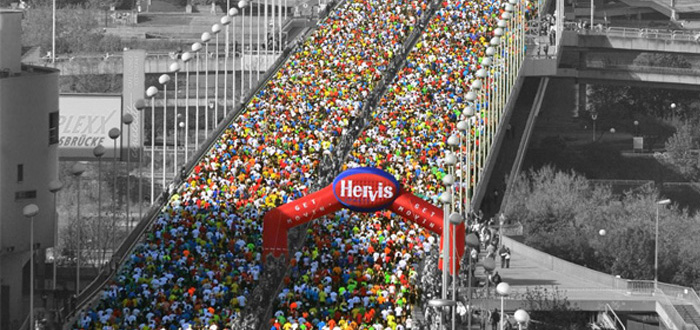 Time went by fast, and soon the so-called "catch me if you can" half marathon race between Paula Radcliffe and Haile Gebrselassie was started. A few minutes later I crossed the starting line.
I ran the first 5 km at a moderate pace (~5:30), then I picked up pace and ran kilometers 6 to 20 between 5:10 and 5:20, which felt quite comfortable. At km 18 I met my wife near our hostel (very nice accommodation, should you plan to visit Vienna, please ask me) and stopped to have a little chat. At that time I felt so strong and got even faster.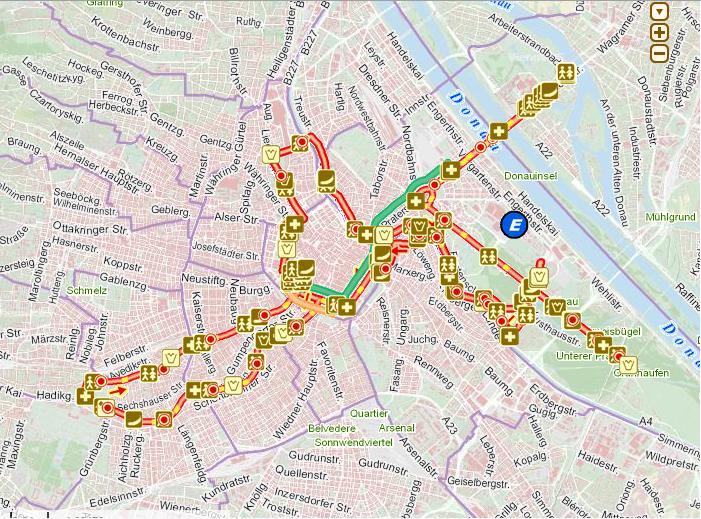 The course of the Vienna Marathon consists of basically two laps. The first lap is the half marathon course. Last year I had run the half marathon in Vienna, so I knew the course. After passing the finish at km 21 the course was new to me. It's always interesting to run a new course, so the kilometers flew by. At km 30 I still felt good, a bit tired but not exhausted. My pace was still between 5:20 and 5:30. At km 33 the so-called "Haile Meile" began, a mile of the course dedicated to Haile Gebrselassie. The day before at the expo I had seen Haile for the first time, and there he said, in the Ethiopian language "Haile" meant "Energy", and when we runners would pass the "Haile Meile" sign this should give us power and energy. Unfortunately the contrary happened to me. Sorry Haile, I'm sure it was not your fault!
Shortly after passing the 35km water station I hit the wall. This was my 17th marathon race, and I had never experienced this before. It was really like running into a wall. My legs were still ok, but the brain obviously sent the command to stop running. Nevertheless I forced myself to continue, but my pace dropped to ~7:00. Sometimes I had to walk. My plan then was to get close to the finish line – anyhow. I was sure I could run to the finish once I had reached the 40km mark. So I moved forward step by step, and eventually reached 40k, then 41k. I was running, slowly, but I wasn't walking. With 500m to go, I began looking out for my wife and my daughter, who should be somewhere in the crowd. And I was busy making a plan how I could run another 500m. Then 400m. I hadn't known how long 100m can be. I made it to the 42km mark, then the turn to the finish at the Heldenplatz ("Heroes Square": what a name for a marathon finish!). Crossing the finish line I glanced at my watch and was surprised that it showed 3:56. Despite my sluggish last 7km I had finished in under 4 hours.
I don't know exactly why I hit the wall this time. The last 10 years I had run 2 marathon races per year, but in 2011 I ran only shorter distances. So my last marathon was in October 2010, 1 1/2 years ago. Perhaps, after this break, I should have done more long slow training runs. Or my inflamed tooth might be a reason. Last New Year's Eve my dentist diagnosed an inflamed back tooth, which I finally had removed this week, 5 days before the race.
Anyway, after a good night's sleep I'm happy with my race and especially the way I dealt with the wall. A new experience.