Every marathon runner experiences special moments which he or she remembers forever. Obviously crossing the finish line of your first marathon is such a moment. But today I pick another memory.
8 years ago, on Sunday, October 10th, 2004, I ran my 5th marathon race, the Munich Marathon. I can't recall much of the race itself. I finished in 3:46 and as far as I can remember I was very weak during the last kilometers. But I had a goal apart from finishing: the Munich Olympic Stadium. One of the characteristics that makes the Munich Marathon so special for me is the finish: You enter the Olympic Stadium through the marathon gate and finish the race by running one lap on the Olympic track.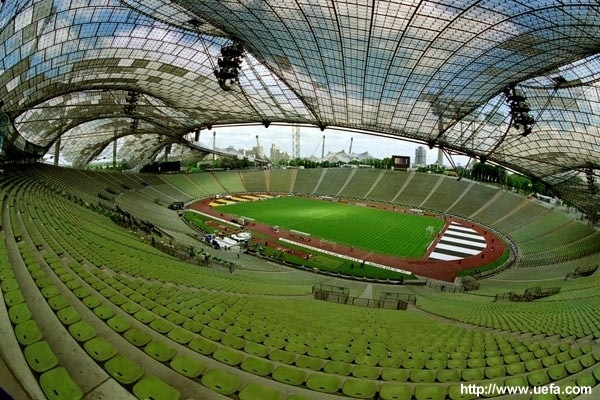 In 2004, the Munich Olympic Stadium was still the home of Bayern München, the soccer team I love since I can think. In 2006, Bayern moved to the newly built Munich World Cup Arena. But on September 28th, 2004, one and a half weeks before the marathon, they played one of their greatest Champion's League matches in the Stadium that had been their home for more than 30 years. They beat Ajax Amsterdam, one of Europe's finest teams, 4:0.
The first of the four goals was particularly beautiful: Bayern's Owen Hargreaves played a pass over 60 meters from the defense to forward Roy Makaay, who hammered the ball into the goal (do yourself a favor and watch the video).
Fast forward to marathon day: I had crossed the finish line, received my medal and was spent. So I looked for a place to rest. I walked on the holy lawn to the center of the soccer field and lay down at the center of the circle. This was the moment: I looked into the sky and saw Hargreaves' ball on its way to the tip of Makaay's toe flying over my head.
Then I saw many situations I had watched during the past 30 years, saw Beckenbauer, Müller, and all the great players of Bayern. It was like a dream, except that I was not lying in my bed but on that very soccer field where all the great matches had taken place.
Until a voice brought me back to the present: "Are you o.k.?" It was a Paramedic from the red cross who suspected I had fainted. "Yes I am." I answered, got up and went to meet my family.