Early in 2011, I read on dailymile about a race called "24 Stunden Lauf" which takes place each year in June in a small town near Bremen, in the north of Germany. The race starts at 12pm Saturday and ends on Sunday exactly 24 hours later. The goal is to run as far as possible.
Fortunately, it is possible to do this in a relay with a team. The course is a 1.2 km loop in a park in the center of Delmenhorst. When running as a team, it is required that the runner changes after every lap. So you don't run a long distance, but a series of short, fast laps and then pause after every lap.
There are also runners who do this on their own. For them, of course, it is a totally different race. While we relay runners run as fast as possible, they have to ration their energy. Most of them take a sleep break during the night, but some run through the night.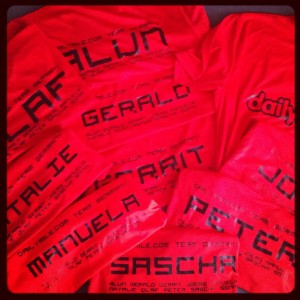 Last year the "dailymile Team Germany" consisted of 7 runners. This year, thanks to our "locals" Sascha and Olaf, we were very well organized and months before the race our team had reached the maximum number of 10 runners: Manuela, Sascha, Olaf, Gerrit, Gerald, Jörg, Natalie, Sonia, Alun and myself. Four of them I knew from last year; the other five I knew only from dailymile.
After a busy working week, I arrived in Delmenhorst at about 10am on Saturday. I met the other team members at our dailymile team tent, a large 6x4m tent borrowed from the Red Cross, which would be our home for the next 26 hours. We changed into the red team shirts (also organized by Sascha) with our names printed on the back and the dailymile logo on the front, and went to the starting area. Together we walked the course, which consisted mostly of gravel walking paths; only a small portion is on asphalt.
Soon it was 12pm, and the first runners were on the course, Gerald for our team. Our plan for the first hour was that each team member should run one lap to get to know the course. Then we ran in pairs: Alun and Gerald from 1pm to 2pm, Gerrit and Sascha from 2pm to 3pm, and so on. I had my first shift from 3pm to 4pm, together with Olaf.
This way of running is very different from the kind of distance running we are used to. Because the distance seems to be so short (1.2km per lap), one tends to begin too fast. Especially on the first lap of a shift, when the legs are still cold, I had difficulties after 300 meters. I had to slow down considerably when I wanted to complete the lap running and not walking. On the second lap, the legs and cardiovascular system slowly change into running mode, and after the third lap it's almost like a normal tempo run. Unfortunately, in a typical 1-hour shift, there is time for only 5 laps, so when the body has reached full operating temperature, the next two teammates take over.
After my second shift (8pm to 9pm), I took a shower, found a corner in the team tent for my camping mat and sleeping bag and slept for 2 hours. Surprisingly I had no difficulties falling asleep. At 11:30pm, a half hour before my next shift with Olaf, I got up, had a little snack and went to the course. Meanwhile the live music had changed; now there was quite nice, quiet country music. Though it was dark, the course was illuminated with colored spotlights; There were also even corners that were really dark and you had to be careful with every step. I knew from the previous year that this was my favorite time. Running felt easy and, despite the darkness, I was really fast. I should run at night more often!
My second night shift was from 4am to 5am this time together with Manuela and Jörg. Again I had slept and after Manu woke me up it took me only a few minutes to get ready. At the horizon there were the first signs of light. By 5am, when our shift was finished, it was almost daylight. After my last shift (8am to 9am) time flew by and soon the last of the 24 hours had come.
To defend our position our fastest runners took turns during the last hour. With 4 minutes to go, Manu came to the finish and I had the honor of taking the baton for the last meters. As fast as I could I ran until the siren rang at 12 o'clock. Complying with the rules I stopped where I was and waited. After a few minutesmy teammates came and we high-fived each other. Then we waited for the official who would measure the distance I ran on the last lap.
We were a really great team. It's amazing how 10 individuals who (in part) didn't know each other previously becme friends and a real team within a few hours. Thank you guys for being so awesome! I'm already looking forward to next year's event in Delmenhorst.
Official result:
Place overall: 15 of 78 teams
Place in category "mixed": 8 of 49 teams
Distance run: 302.2 km